Pattaya
Pattaya City, known globally as the 'Asian Riviera', welcomes up to one million excited tourists a year. Situated less than 100 miles southeast of Bangkok on the eastern coast of the Gulf of Thailand, Pattaya is the favoured holiday destination of the country's wealthiest citizens.
With a colourful mix of nationalities and ethnicities from near and far, Pattaya is best known for its vibrant and varied nightlife, whilst also boasting an array of international cuisine, adrenalin fueled watersports and lengthy beaches.
Thanks to its proximity to Bangkok, Pattaya is the ideal location for frequent visitors jetting in for fabulous breaks from all over the world. Is an easy taxi ride from Bangkok and also reachable via excellent rail and bus links, as well as a small airport open mainly to private flights.
Our selection of Fractional Ownership resort properties in Pattaya include: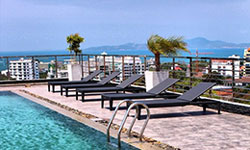 South Beach
Pattaya's hottest new boutique resort