Koh Samui
Tucked off the east coast of Surat Thani Province in the Gulf of Thailand, Koh Samui offers a perfect blend of stunning natural seaside landscapes and lush tropical vegetation. Testament to the island's enduring attraction are its awards by Conde Nast as a top 10 island destinations and Trip Advisor as Most Romantic Island Destination.
Koh Samui has a resort to suit all tastes, from vibrant Chaweng and Lamai on the east coast, with its lively shopping and nightlife, to the luxurious and exclusive Taling Ngam and Lipa Noi along the western coast and the stunning seascapes of the tranquil Thong Krut in the south.
The airport has daily flights to Bangkok, Hong Kong, Singapore and Kuala Lumpur, with direct flights to Dubai, Shanghai and Bali in the pipeline.
Our selection of Fractional Ownership resort properties in Koh Samui include: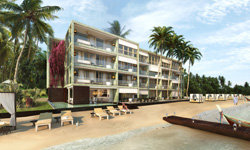 The Beach Samui
Paradise on the beach and part of the worldwide Design Hotels™ collection